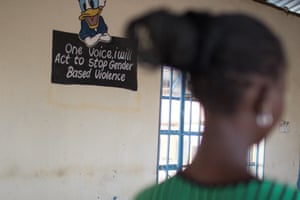 Girls as young as 12 are being forced into having sex for money to feed their families in drought-hit parts of Kenya.
Families in rural areas of Turkana, one of the regions hardest hit by late rains, are sending their daughters to urban centres to make money. Many are forced to sell their bodies, earning as little as 50 Kenyan shillings (37p) for sex, according to a report published by the International Rescue Committee (IRC) on Wednesday.
The IRC also reported an increase in gender-based violence in the county, as well as a rise in instances of child marriage.
In early June, the IRC visited the red-light districts and areas where sex workers solicit in the town of Lodwar. In one night, case workers found 320 girls aged between 12 and 17 whom they believed were involved in transactional sex. Invited to a drop-in centre, 88 of the girls visited in the following days and confirmed that they had been driven to prostitution as a direct result of the drought and lack of food.
Mercy Lwambe, women's empowerment coordinator for IRC Kenya, said all the 88 girls interviewed were originally from poor rural areas, the nearest of which was 50km away. The youngest girl interviewed was 12.
"They said, 'Our families have lost all their livestock and don't have any money,' so they're sending them away or they're being married off," said Lwambe.
Drought across Kenya has made 2.6 million people food insecure and has seen a five-fold increase in food prices, as well as conflict around water points and an increase in malnutrition and diseases. Regions in the north of the country are particularly badly affected. The UN has warned that some people could soon be a step away from famine.
Many men and boys have taken their livestock to neighbouring Uganda, leaving women, and in some cases young girls, alone to care for younger siblings and older relatives.
Many of the girls engaged in transactional sex are very vulnerable to abuse, violence and sexually transmitted infections, said Lwambe. "It's overwhelming, particularly with the children, the desperation they go through." She said children were often beaten by men or had money stolen from them.
Mary*, 24, started sex work as a way of feeding her family.
"I saw that is something that my family depends on," said Mary. "The children are always disturbed because they are feeling hungry. It is not something good, but the need to care for these children is what forces me, because I don't have anywhere else to run to."
The IRC has also seen an increase in gender-based violence since December, particularly attacks on children who are left alone in their homes at night as the men are out of the country with the livestock and their mothers are working.
From January to June, the IRC received reports of 67 cases of rape of children aged nine to 16, an average of 11 per month. Before the drought they saw one or two cases a month.
In one case, a six-year-old girl was raped and beaten by a man with whom her mother was living in exchange for financial protection. After the girl was referred to the IRC's Wellness Centre in Lodwar, the staff were able to assist her and identify the perpetrator, who is now in jail.
As well as providing care and support for the survivors of abuse, and reproductive healthcare, the IRC has been running education centres and job training in Lodwar since 2014. However funding cuts last year have led to staff reductions, and cuts to the number and scope of its programmes.